THE 2022 SEASON IS HERE!!
Vendor spots may still be available…if you're interested, register your business through Manage My Market and we'll get back to you. To see if you qualify to be a vendor at the Champaign Farmers Market, make sure to check out our Vendor Handbook.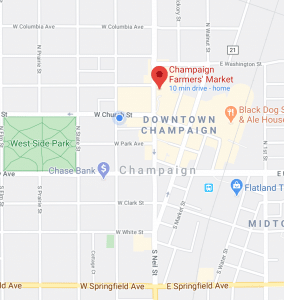 STOP BY THE MARKET EVERY TUESDAY
The Champaign Farmers Market takes place every Tuesday from 3:00 – 6:00 p.m. in the parking lot at Neil & Washington in downtown Champaign. The Market operates from May 17 – October 25. This year vendors will be offering meat, poultry, eggs, vegetables, fruit, microgreens, baked goods, bread, desserts, flowers, and herbal products, dog treats, food trucks, and more! Check HERE for the clickable map of market vendors each week.
These last two years of the pandemic revealed the complexity of our national food distribution system. Food supply gaps manifested in empty shelves at grocery stores and motivated folks to look for food solutions closer to home. Farmers markets became a part of the solution, with their ability to provide products to meet demand for locally grown, raised, and produced foods. The Champaign Farmers Market is now in its 8th season and is a reliable source in Downtown Champaign for fresh, nutritious, locally grown food. We take pride in our market Vendors, knowing they offer their best to the community every Tuesday!
If you want to stay on top of all that the Champaign-Urbana farmers market and local food scene has to offer make sure to sign up for our newsletter "The CUrrant" and follow Champaign-Urbana Farmers Markets on Facebook and Instagram for regular updates from the Champaign Farmers Market, as well as other farmers markets in Champaign County, all year long.
Also, visit the Buy Fresh Buy Local Illinois online directory to find local farms, co-ops, restaurants, and much more all year round.
SPONSORS
We are very grateful to the following sponsors:
EGGPLANT SPONSORS
Illinois Farm Bureau  |  Smile Politely |  M2  |  One Main  |  One Main Development
BLUEBERRY SPONSORS
Busey Bank  |  Champaign Center Partnership
ROMANESCO SPONSORS
Champaign Center Partnership
PEACH SPONSORS
Emmanuel Memorial Episcopal Church  |  Faith in Place  |  American Water
KIDS KITS SPONSORS
Carle  |  Lodgic Kids Camp  |  Busey Bank
MARKET MAP
CLICK HERE for a mobile friendly version of the Champaign Farmers Market map.
MARKET BENEFIT PROGRAMS
The Land Connection believes access to fresh, local food is a right for every person in our community and we are committed to making good food accessible and affordable.
Universal Link Match Incentive Program
This year, the Champaign Farmers Market (CFM) is expanding the Universal Link Match Incentive Program. The Program helps SNAP shoppers with Link cards, as well as P-EBT cards, increase their food budgets and provides year-round access to nutritious, fresh, local food. In addition to helping our food-insecure community members, the program supports local farmers and food producers and greatly benefits our local economy.
The Universal LINK Match Program allows shoppers to swipe at any participating area Markets and use the same tokens and vouchers to buy products at any market.
Triple Link – You can TRIPLE the value of your Link or P-EBT card for up to $20 (swiped). This means if you swipe for $20, you'll receive $20 in tokens for all SNAP-eligible items and $40 in vouchers to use on fresh LOCAL fruits and vegetables, at the CFM, UMATS and Common Ground Food Co-op.
To participate in these programs, bring your Link card to the Info Table at the CFM located on the South side of the market or to the Info Table at UMATS in the NW corner of the Market.  Market staff will help you with your transaction, as well as answer any questions you may have about using benefits at the Market.
For more information on area Markets that distribute and accept SNAP/Link match click HERE.
For more information on WIC/Senior Farmers Markets Nutrition Programs click HERE.
FRIENDS OF THE MARKET CAMPAIGN
Interested in supporting the C-U Farmers Markets, but unable to commit to a sponsorship? Consider joining Friends of the Market!
Your one-time or recurring monthly donation will go directly to help fund our food assistance programs and market operations.
Help us grow a thriving and resilient local food community! All our neighbors deserve access to locally grown and produced foods and every farmer deserves an avenue to grow a sustainable business.
Make a gift in any amount. Whether it's $100 at the start of the season or $10 a month, no contribution is too small. There is no deadline to become a Friend of the Market!
Donations can be made by check or credit card by clicking the link below.