Super root to the rescue! Fall is coming, and as the days get shorter and cooler (well, a little bit cooler) the tables at farmers' markets that were once piled high with delicate summer fruits and vegetables are changing to heaps of heartier, thicker skinned foods that will hold up nicely in a cool basement over the winter. Sweet potatoes are one of the things you'll find at the market this time of year, and they are also one of the things that make the coming season something to look forward to. There must be hundreds of recipes for the nutrient packed root, so now is the time to stock up.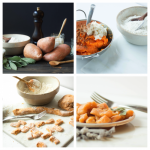 Print Recipe
Sweet Potato Gnocchi
Ingredients
2

pound

sweet potatoes

baked

⅔

cup

fresh ricotta cheese

1 1/2

teaspoons

salt

1

teaspoon

cinnamon

1 1/4

all purpose flour + ½ cup for work surface

1/2

cup

1 stick unsalted butter

6

tablespoons

chopped fresh sage plus whole leaves for garnish
Instructions
Preheat oven to 425

Bake the sweet potatoes for about 45 minutes (until soft)

Allow to cool some and scoop out the potato flesh into a mixing bowl

Add the ricotta cheese, salt, cinnamon, and pepper and mix well with a fork

Add the flour a little at a time until you form a soft dough, split into 6 balls

Roll the balls into 1 inch wide ropes and cut into 1 inch pieces

Gently smash the pieces with a fork, just enough to show the lines of the fork

Bring a pot of salted water to a boil

Add the gnocchi in batches--enough to cover the top of the pot when they float to the surface--for about 5 minutes, then remove with a slotted spoon

Make sage butter

Melt butter in a pan

Add sage leaves and stir until butter turns brown

Stir in cinnamon

Remove sage leaves

Toss over cooked gnocchi

Serve immediately
Notes
NUTRITION
Vitamins, Minerals, and Nutrients:
Vitamin A - required for maintaining healthy mucosa and skin and is essential for vision. Foods rich in this vitamin are known to offer protection against lung and oral cavity cancers. No other food on the planet contains more vitamin A than sweet potatoes!
Vitamin C – helps to rebuild tissues and blood vessels, and keeps bones and teeth strong
Potassium – helps maintain blood pressure and regulate kidney health
Manganese - helps the body form connective tissue, and bones. It plays a role in fat and carbohydrate metabolism, calcium absorption, and blood sugar regulation. Necessary for normal brain and nerve function
Did you know?
A true yam is a Caribbean native that has the same white flesh color as a regular potato. Sweet potatoes, on the other hand, are from South America and are typically orange-colored flesh, but can also be white or purple