Did you know…
There are a TON of interesting things about tomatoes. The entire history of their cultivation is fascinating on its own. If you want to learn more, take a deep dive on Wikipedia to get started. Here are a few of our favorite tidbits: In the Valencian town of Buñol in Spain, there is an annual tomato food fight festival called La Tomatina. Tens of thousands of festival-goers hurl over 140,000kg of tomatoes at one another on the last Wednesday in August. Although at La Tomatina they only throw red one, tomatoes can also be green, purple, white, yellow, pink, black, or multi-colored. The shape of tomatoes also varies widely between varieties, from tiny pear-shaped tomatoes to huge ribbed tomatoes. Tomatoes also increase in weight as they ripen and they get heavier even after being harvested.
Nutritional Value
Tomatoes are a great source of vitamin C and a good source of potassium, fiber and vitamin A in the form beta-carotene. Tomatoes do contain lycopene, but there hasn't been any conclusive research into its health benefits. Like beta-carotene, lycopene is a carotenoid, responsible for the bright red color of the tomato, watermelon, and grapefruit. Although lycopene is available in all ripe tomatoes, a greater supply is more useful to the body in cooked tomatoes.
Buying & Storing
Tomatoes generally fall into three categories, slicing round tomatoes, plum/Roma tomatoes, and small cherry tomatoes. Generally, slicing tomatoes can be further divided into heirloom varieties and common red varieties. You should choose the variety of tomato-based on what you plan to use it for. For example, yellow of white slicing tomatoes typically have the least amount of acid, so if you have a hard time with acidic tomatoes you should varieties that fall in that color range.
Slicing tomatoes vary greatly in size but tend to hold more juice and seeds. They are perfect for eating raw in as many ways as you can think of. Plum or Roma tomatoes are meaty, eggplant-shaped, and can be red, yellow, or multi-colored. They are excellent for sauce making, canning, and pizzas because they have a higher flesh-to-seed ratio. Small cherry-type tomatoes are generally served whole, although they can be cut in half for salads or sautéed dishes. Cherry tomatoes contain a lot of seeds and juice, but that's what makes biting into them so enjoyable…that explosion of flavor and burst of juice.
Fresh ripe tomatoes should not be stored in the refrigerator. Unfortunately, refrigeration renders tomatoes tasteless and turns the flesh to mealy mush. On the other hand, temperatures above 80°F cause tomatoes to spoil quickly. Store tomatoes at room temperature for 3 to 5 days in an area away from direct sunlight until they are ready to use. Sunlight hastens the ripening process.
Refrigeration also slows ripening of tomatoes. Refrigerate only extra-ripe tomatoes you want to keep from ripening any further. On the other hand, to ripen tomatoes that were harvested while unripe, place them in a paper bag, stem-end up. Punch several holes all around the bag and fold the top over. Depending on how under-ripe they are, tomatoes may take one to five days to ripen. Check progress daily.
Tomatoes can be frozen whole for long-term storage. Core tomatoes, place them on a wax or parchment paper-lined baking sheet and freeze. Once frozen, place them in a freezer bag and put the bag in the freezer. Remove tomatoes as you need at a time. Once frozen, tomatoes will only be suitable for saucing or purees as the flesh will have broken down from the freezing and thawing process.
Videos

View this post on Instagram
Preparation
There are many ways to prepare tomatoes, but sometimes the simplest way is the best. Not much compares to a fresh from the garden or farmers market vine-ripened tomato that has been sliced for a BLT or Caprese Salad. Although, if that's not how you prefer to eat fresh local tomatoes, by all means, eat them however you like. Make sure to rinse your tomatoes under cold water and gently wipe them dry. Use a serrated knife and remove the tough spot where the stem meets the fruit, also known as the core, and any damaged areas.
Oftentimes recipes will want just the flesh of the tomatoes and will have you remove the liquid jelly and seeds. This is a process called seeding a tomato. To seed tomatoes, cut the tomato in half horizontally. Holding a half in the palm of your hand, squeeze out the jelly-like juice and seeds over a strainer and scoop out remaining seeds with your fingertip. Do not throw away the juice, sieve it and use it in another recipe or drink it. You can also cut your tomato into wedges and then de-core the wedges and remove the jelly and seeds by cutting out the entire center. Heirloom varieties can be trickier to remove the seeds from as they tend to have more flesh and can have interesting seed "layouts" inside. However, the jelly and seeds are very flavorful and good for you! Avoid removing them, when possible.
Some recipes will even ask you to remove the skin as it doesn't break down and can be tough. This is an important step for sauces especially if you aren't using a food processor or blender to make it smooth. To remove the skin of a tomato, de-core the tomato and cut an X into the skin on the bottom. Submerge the whole tomatoes in boiling water for 15-60 seconds, lift them out with a slotted spoon, and drop them in a bowl of ice water. Once the tomatoes have cooled peel the skin off in sections starting where you cut the X. The skin should come right off if they were boiled for long enough.
Cooking
There are a million and one ways that you can cook (or not cook) tomatoes and I couldn't cover all of them here, so see the recipes below for more ideas and basic cooking help. I've included more video links this time for some of the basic preparation techniques that I discussed as it can be hard to visualize.
Raw: fresh tomatoes off the vine are best when eaten raw. Slice or dice them for sandwiches, salads, and salsas. Puree them for juices or cold soups. Or, just eat them plain with a little salt.
Saucing: peel tomatoes and add to sautéed carrots, celery, onion, and garlic. Add spices and season as desired. You can leave the sauce chunky or use a food processor or immersion blender to make it smooth. If you want to try something different you can add a little cream to make a pink sauce.
Sautéing: place whole cherry tomatoes in stir-fries right at the end to lightly sear the outside. They add delicious bursts of umami flavor to any dish. You can also remove the seeds, dice the tomato, and sauté for use in omelets and frittatas, pasta dishes, rice dishes, or to accompany or top fish or meat.
Roasting: cut tomatoes in slices or wedges and place on a foil-lined rimmed baking sheet. Drizzle with olive oil and roast at 450°F for 20-30 minutes. You can also roast whole cherry tomatoes and whole or halved plum tomatoes, but adjust the time so you don't burn them as they will cook faster.
Grilling: add whole cherry, plum, or Roma tomatoes to kebobs or place with other veggies in a grill basket or grilling pan. With the kebobs, just make sure not to overcook the tomatoes as they can fall apart if cooked too long. Large wedges of tomatoes can also be cooked on a grill using a grilling pan with holes in the bottom that allows them to cook with less risk of the pieces becoming soft and falling into the coals when moved.
Frying: slice green (unripe) tomatoes into 1/4-inch slices. Dip the slices into seasoned flour, then dunk in buttermilk or egg, then dip them into seasoned cornmeal or panko. Fry them in a pan or cast iron skillet over medium heat. Flip them after a few minutes once they've turned golden brown. Once both sides are golden, use a spatula to place them on a paper-towel-lined plate to remove any excess oil and then serve immediately. There is a bevy of opinions on the proper order and components for the coating so do some research and try something new.
You can also stew tomatoes, make both cooked and raw soups, dehydrate them, can them, or freeze cherry tomatoes and throw them in bloody marys as ice cubes. The world is your tomato, eat it.
Recipes
Bon Appetit – 79 Tomato Recipes for the Height of the Season
Good Housekeeping – 29 Tomato Recipes to Try ASAP
TLC Resources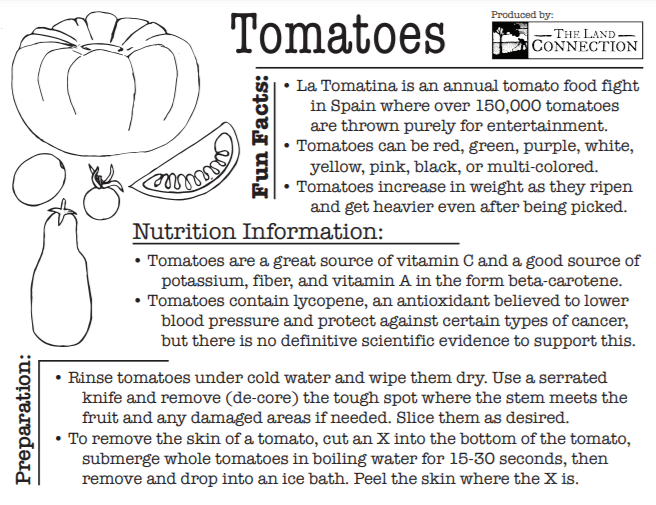 Specialty Crop Cards – Tomatoes
Specialty Crop Blog – Tomatoes
Should I Squeeze Your Tomatoes?: What Your Vendors Would Like You To Know
Information
University of Illinois Extension – Tomatoes