This recipe was originally developed as part of our Kids Kits 2021 program.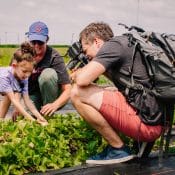 Print Recipe
Cantaloupe Salsa
Equipment
Large Mixing Bowl

Cutting Board

Knife

Peeler

Juicer (optional)
Ingredients
2.5

cups

cantaloupe

(about ½ a medium cantaloupe), diced (1/4 inch)

1/4

cup

sweet or red onion

finely chopped

1/4

cup

cucumber

diced (1/4 inch)

2

Tbsp

lime juice

2

Tbsp

fresh basil or cilantro

finely chopped

1/4

tsp

salt

black pepper

freshly ground, to taste
Instructions
Cut the cantaloupe in half from end to end, remove the seeds and pulp from the center with a spoon and discard the seeds and pulp. Place half of the cantaloupe face down on the cutting board and remove the rind with a knife. Dice the cantaloupe into 1/4-inch pieces.

Peel the cucumber. Cut the cucumber in half from end to end and use a spoon to remove the seeds from the each half. Discard the seeds and the rind/skin. Dice the cucumber into 1/4-inch pieces.

Dice the onion into the smallest pieces that you are comfortable cutting and then use your knife to chop the pile of diced onion until the pieces are smaller than a 1/4-inch dice.

Chop or tear the basil into small ribbons or pieces. Or, chop the cilantro as small as you want it to be.

Mix everything together in the large bowl and serve.

Serve immediately with tortilla chips or over grilled fish or chicken.
Video