THE 2021 SEASON KICKS OFF ON MAY 18!!
We can't wait to kick off the 7th season of the Champaign Farmers Market! We'll be returning to our normal location in the parking lot at Neil & Washington in downtown Champaign from 3:00 – 6:00 p.m. every Tuesday from May 18 – October 26.
If you want to stay on top of all that the Champaign-Urbana farmers market and local food scene has to offer make sure to sign up for our newsletter The CUrrant and follow Champaign-Urbana Farmers Markets on Facebook, Instagram, or Twitter for regular updates from the Champaign Farmers Market family all year long.
Also, visit the Buy Fresh Buy Local Illinois online directory to find local farms, co-ops, restaurants, and much more all year round.
Also, check out the Champaign-Urbana Winter Farmers Market that runs from November 7 – December 19 on Saturdays from 8:00-11:00 a.m. at Lincoln Square Mall in Urbana!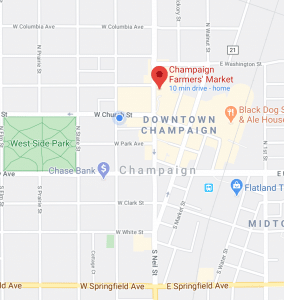 We're Getting Ready for the 2021 Season of the Champaign Farmers Market!!