THE 2021 SEASON HAS OFFICIALLY BEGUN!!
Some vendor spots might still be available…if you're interested, register your business through Manage My Market and we'll get back to you. To see if you qualify to be a vendor at the Champaign Farmers Market, make sure to check out our Vendor Handbook.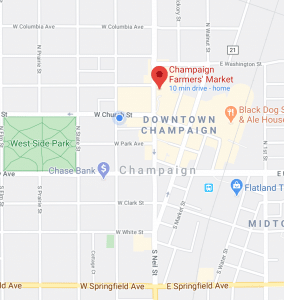 UPDATED COVID GUIDELINES – MAY 28, 2021 – Urbana's Market at the Square and the Champaign Farmers Market have put together guidelines in collaboration with the Champaign-Urbana Public Health District for the safe operation of the markets in 2021. The safety plan and guidelines took into account the current CDC and State guidelines, current Bridge to Phase 5 Restore Illinois Plan restrictions, as well as suggestions made by the Illinois Farmers Market Association and University of Illinois Extension. Please view the guidelines below before attending the market.
CLICK HERE TO DOWNLOAD THE NEW GUIDELINES
STOP BY THE MARKET EVERY TUESDAY
The Champaign Farmers Market takes place every Tuesday from 3:00 – 6:00 p.m. in the parking lot at Neil & Washington in downtown Champaign. The Market operates from May 18 – October 26. While it is a small Market, this year vendors will be offering meat, poultry, eggs, vegetables, fruit, microgreens, baked goods, bread, desserts, flowers, cbd and herbal products, dog treats, food trucks, and more! Check below for the list of market vendors each week.
The Champaign Farmers Market is now in its 7th season and is only getting better with age. With the global pandemic slowly loosening its grip on the world, especially here in the U.S., we hope that the lessons learned about the food system will continue to inspire our community to support local farmers and food businesses when they can. One of the best ways you can do that is by shopping at your local farmers market.
If you want to stay on top of all that the Champaign-Urbana farmers market and local food scene has to offer make sure to sign up for our newsletter "The CUrrant" and follow Champaign-Urbana Farmers Markets on Facebook, Instagram, or Twitter for regular updates from the Champaign Farmers Market, as well as other farmers markets in Champaign County, all year long.
Also, visit the Buy Fresh Buy Local Illinois online directory to find local farms, co-ops, restaurants, and much more all year round.
SPONSORS
We are very grateful to the following sponsors:
EGGPLANT SPONSORS
Illinois Farm Bureau  |  City of Champaign  |  WCIA TV  |  Carle Hospital  |  Smile Politely  |  MTD
BLUEBERRY SPONSORS
M2  |  One Main  |  One Main Development  |  Busey Bank  |  Rewind 92.5  |  WDWS, WKIO & WHMS  |  Champaign Center Partnership
ROMANESCO SPONSORS
Champaign County Farm Bureau
KOHLRABI SPONSORS
Emmanuel Memorial Episcopal Church  |  Faith in Place  |  News-Gazette  |  Luyando Boxing  |  American Water
MARKET MAP
TUESDAY, JULY 13
i: Market Benefit & Information Booth
VENDORS
1: Weinzierl Fruit
2: Havilah Gardens
3:
4:
5: Iron Meadows Flower Farm
6: Central Illinois Bakehouse
7:
8: Sola Gratia Farm
9:
10: U of I Extension (Samples)
11: Two Million Blooms
14: Meyer Produce
15: Berries & Flour
16: Illinois Willows
17: Buy Black Chambana
18: Cousin's Dog Biscuits
19: Stango Cuisine
20: Diamond's Homestead
21: Prosperity Gardens
22: Brittany's House of Sweets 
23: Pleasant Dale Farms
24: Weird Meat Boyz
25: Triple S Farms
COMMUNITY PARTNERS
12: Anchor Church (Balloon Art)
13:
MARKET PROGRAMS
The Land Connection believes access to fresh, local food is a right for every person in our community and we are committed to making good food accessible and affordable.
Universal LINK Match Incentive Program
New this year, the Champaign Farmers Market is partnering with the City of Urbana, which operates Urbana's Market at the Square, and Common Ground Food Co-op on a Universal LINK Match Incentive Program. The Program in Champaign-Urbana provides SNAP shoppers that use LINK benefits at our farmers markets, as well as those that received P-EBT cards as part of their child's COVID relief, increased food budgets and year-round access to healthy, fresh, local food. In addition to helping our food-insecure community members, the program supports local farmers and food producers and greatly benefits our local economy.
The Universal LINK Match Program allows shoppers to swipe either of the Markets and use the same tokens and vouchers to buy products at either market.
Double LINK Days – Every week you can double the value of your LINK or P-EBT card for up to $20 (swiped). This means if you swipe for $20, you'll receive $20 in tokens for all SNAP-eligible items and $20 in vouchers to use on fresh LOCAL fruits and vegetables at either market and Common Ground Food Co-op.
Triple LINK Days – On the third market of each month, you can TRIPLE the value of your LINK or P-EBT card for up to $20 (swiped). This means if you swipe for $20, you'll receive $20 in tokens for all SNAP-eligible items and $40 in vouchers to use on fresh LOCAL fruits and vegetables at either market and Common Ground Food Co-op. Urbana's Market at the Square will offer their Triple LINK Day on the third Saturday of each month, which the Champaign Farmers Market offers it on the third Tuesday of the month.
Plus, you can use your LINK or P-EBT card at both of the Triple LINK Days to really increase your food budget.
To participate in these programs, bring your LINK card to the Champaign Farmers Market and visit The Land Connection table located on the North side of the market by the entrance. A representative from TLC will be able to help you with your transaction, as well as answer any questions you may have about using your benefits at the Market.
FRIENDS OF THE MARKET CAMPAIGN
Friends of the Market is your chance to support the Champaign Farmers Market directly. If you believe in this work and the importance of providing locally grown and produced foods to everyone in our community, then this is the perfect opportunity for you! Your donation will go directly to help fund the incentive programs and the Market, their promotion, and administration.
To become a Friend of the Market visit our website and make a donation. You can make a one-time donation or setup a a recurring monthly donation. If you setup a recurring monthly donation of $10 or more a month you'll receive a Champaign Farmers Market T-shirt if you make your initial donation before August 31, 2021! Certain size availability is limited.