UPDATE:
The Market is now back at its normal location in Parking Lot M at the corner of Neil & Washington in downtown Champaign. Masks and social distancing are still required at the Market. Please check out the
Champaign-Urbana COVID-19 Market Safety Plan
for more information or email us at
market@thelandconnection.org
.
Visit the Champaign Farmers Market every Tuesday from 3:00-6:00 p.m. for fresh, local foods in the heart of downtown Champaign! Beginning May 19th and running through October 27th, you can pick up veggies, fruit, honey, meat, baked goods, and more all grown, raised, or produced within 150 miles of Champaign.
The Champaign Farmers Market is your mid-week chance to load up on locally grown and produced food. You can meet your farmers and producers, enjoy samples of budget-friendly recipes made with seasonal produce, watch cooking demonstrations, and more!
Looking for your favorite vendor? Visit our interactive map to find their spot!
The Market is currently not allowing buskers or performers at the Market in accordance with Champaign-Urbana Public Health District guidelines and restrictions due to the COVID-19 pandemic. However, if you are a musician, magician, face painter, or other performer and would like to be considered as a busker for the Market in the future, please email market@thelandconnection.org or call 217-840-2128.
Follow us on Facebook, Instagram, or Twitter for regular updates from the Champaign Farmers Market family all year long.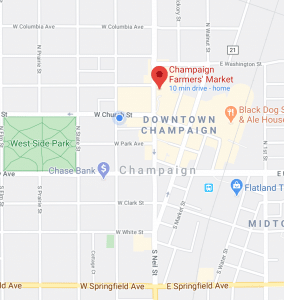 Market News – WEEK 24 (October 27th) Sponsored by:
This week's vendors are:
Central Illinois Bakehouse (Central Illinois Produce)
Sola Gratia Farm
Three D Tomatoes
Brittany's House of Sweets
Havilah Gardens
Sugga Shaii's Sweets
Meyer Produce
Cousin's Dog Biscuit Company
Diamond's Homestead
PLUS:
Carle Mobile Clinic
Anchor Church
Halloween Hunt
Champaign Center Partnership
Produce and goods to expect at the Market this week:
Dog Treats
Sweet Treats : Cookies,  Pastries
Micro Greens
Produce: Broccoli, Lettuce, Carrots, Beets, Kale, Collards, Cucumber, Zucchini, Cherry Tomatoes, Herbs, Peppers, Squash, Apples, Bell Peppers, Tomatoes, Pumpkins
Tuesday, October 20th is DOUBLE LINK TUESDAY at the Market, which means that when you swipe your LINK card at the Information & Benefits Tent, we will triple the amount of SNAP benefits you receive with coupons for fresh fruits and vegetables! So, if you swipe for $20 in SNAP benefits, you will receive $20 in Market tokens to use on all SNAP-eligible items at the Market PLUS, $20 in vouchers to use on fresh fruits and vegetables at the Market.
NOTE: If you swipe for more than $20 in SNAP benefits, we will only provide additional incentives up to $20. So, if you swipe for $30, you will receive $30 in tokens and $20 in vouchers (not $60)
SNAP INCENTIVES FOR THE 2020 MARKET SEASON
This season we're offering several SNAP incentive programs:
Double Match – Every week we provide a double match up to $20 swiped. This means if you swipe $20 we will give you an additional $20.
Triple Match – On the third Tuesday of each month, we will give you a triple match up to $20 swiped. This means if you swipe $20 we will give you an additional $40.w
Learn more about SNAP at the market!