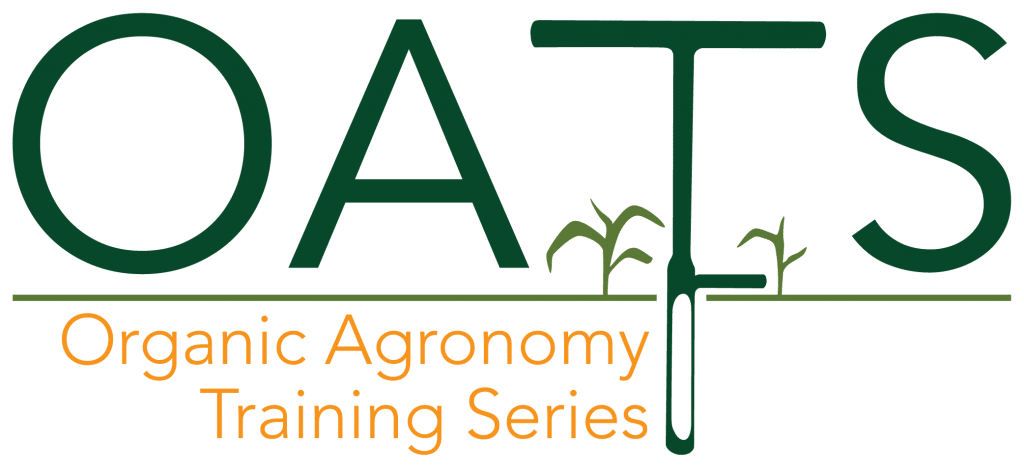 The Organic Agronomy Training Series (OATS) is a collaboratively managed, science-based train-the-trainer program for agricultural professionals working with organic or transitioning producers in the United States. This two-day training provides education and guidance on organic production methods and certification necessary for agronomists, certified crop advisors, extension agents, and technical services providers to serve the needs of certified organic grain producers.
OATS will increase the skill and impact of extension staff, agency personnel, consultants, advisers, educators, and technical service providers on organic production systems and USDA-NOP regulatory compliance. The program will build participants' knowledge base in all key areas of certified organic production:
Basics of organic production: weed control, nutrient management, crop rotation, pest management
Systems thinking & long-term strategies for success in organic production
Managing risk during transition
Organic certification process & record keeping
National Organic Program (NOP) rules & regulations
Organic marketing and crop diversity
Networking with other organic-focused professionals
On-farm & hands-on experiential learning on organic operations
Agenda
DAY 1 | July 24 | 8:30 AM - 5:00 PM
8:30
Doors open (refreshments available)
9:00
Welcome & History of Organics
9:45
Optimizing Soil Health in Organic Grain Production
12:00
Lunch
12:45
Managing Fertility, Weeds, and Pests in Organic Systems
4:30
Panel Discussion: Tying It All Together
5:00
Adjourn
6:00
Social at Backstep Brewing Company (food truck supper on site)
DAY 2 | July 25 | 8:30 AM - 4:00 PM
8:30
Farm Tour and Field Demonstrations
10:50
Certification, Dehulled - A Dive into Organic Certification
12:00
Lunch
12:45
Economics of Organic Grain Production
1:45
Post-Harvest Handling and Food Grade Specifications
2:30
The Business Case for Organic Agronomy Services
3:00
Panel Discussion: Shifting the Mindset
4:00
Adjourn
Speakers
Speakers and bios coming soon!
Planning Committee
Co-Chair, Mallory Krieger | The Land Connection
Co-Chair, Michael O'Donnell | Purdue University Extension
Dani Kusner | The Andersons

Maria Pop & Andrew Smith | Rodale Institute

Will Glazik & Dan Perkins | Idea Farm Network
Sponsors
Partner Organizations
OATS is supported with funding and resources from the CLIF Bar Foundation, Pipeline Foods, and the Organic Trade Association


Lodging
The following hotels have discounted rooms available. Ask for the "OATS Training" room rates when calling to book.
Holiday Inn & Suites – 2506 N Lafayette Ave, Crawfordsville, IN 47933. $109/night + tax. Book here or call the hotel at 765-323-4575. Cut off date July 2, 2019.
Best Western PLUS – 2600 Industrial Boulevard, Crawfordsville, IN 47933. $109/night + tax for a King, $114/night + tax for a two Queens. Call 765-307-3999. Cut off date June 23, 2019.
Hampton Inn – 2895 Gandhi Drive, Crawfordsville, IN. $123/night + tax. Call 765-362-8884. Cut off date June 23, 2019.
Registration
Use the form below to register to attend the OATS training. If you have any questions, please contact Mallory at mallory@thelandconnection.org or call 217-840-2128.
Registration closes July 14, 2019.