Did You Know…
Radishes are a spring and fall vegetable, especially here in central Illinois, and I'm always grateful for the ability to grow or buy them throughout two seasons of the year. Although you may find local radishes starting in February and March if they've been started in hoop houses or greenhouses, typically you'll start to see field radishes right around the start of farmers market season in May.
Radishes have numerous varieties that vary in size, flavor, color, and length of time to maturity, and can all be used in all sorts of different ways. Suffering from few pests and diseases, they are sometimes grown as companion plants. Because of this, they are great to plant in flower beds and gardens. Also, if you let radishes bolt (flower), they will produce huge plumes of yellow flowers that attract tons of pollinators and will produce radish pods that you can pickle. The seeds in radish pods can also be pressed to extract radish seed oil which, although not suitable for human consumption, is a potential source of biofuel.
Nutritional Information
The radish root is 94% water and has only nominal values of a few vitamins and minerals, including potassium, phosphorus, magnesium, and vitamin C. Radishes have been used throughout history to treat everything from diabetes to piles, from jaundice to vitiligo. The greens, on the other hand, are packed with nutrients, as most leafy greens are, and are an excellent source of vitamins A, C, and group-B.
Buying & Storing
The best way to tell if your radishes are at the peak of perfection is to look at the greens. They should be bright green, fresh, and perky. Any sign of browning, mushiness, or wilting means that they're old, or have been stored improperly. Though, keep in mind that if you're at a market and the radishes have been out for a bit, the leaves are bound to look a little wilted. In general for all root vegetables, if the greens are still attached, always look at the greens. Make sure to feel the radishes a bit too. You want firm, solid roots, without too many blemishes or brown spots. If you're going to use them that day you don't have to worry as much about their quality, but if you're planning on using them later in the week, you want to make sure they won't go bad on you before you're ready to use them.
Before storing radishes, it always helps to remove the greens from the radish so that both will keep longer. Store radishes for up to 2 weeks in a plastic bag or wrapped in a damp paper towel in the refrigerator. Store greens separately wrapped in a damp paper towel in the crisper drawer of your refrigerator. Use the greens as soon as possible. For longer-term storage, daikon and winter radish varieties may be packed in moist sand and kept in a cool, but not freezing, place like a basement. Radishes and their pods can be pickled or canned for long-term storage.
Preparation
Here is one of my favorite parts about radishes…all parts of the radish plant are edible, including the pods. The pods can be eaten raw, tossed in a salad, stir-fried, or pickled. Before you use radishes, remove the greens from the root and set aside (you can wash and eat the greens cooked or raw, or add to stock). Scrub the radishes gently with a brush or rub with a dish towel to remove any garden soil. Radishes do not need to be peeled, though with some varieties you might want to, as they can have a woody outer layer.
Cooking
A quick note I learned recently while researching the blog, radishes are generally interchangeable in recipes, however, their pungency varies so always make sure to taste them first. For example, watermelon and daikon radishes are much milder than French or red radishes and tend to serve different purposes in recipes, so always taste test and do your research about the best substitution options.
Radishes, from what I have found, are typically eaten raw. I attribute this to the delicious crunch and flavor of raw radish. They really are unlike any other vegetable, so recipes or preparations that highlight these unique qualities tend to be the most common. Maybe my desire to learn different ways to use and prepare radishes was all in vain…but I still have hope. You can use raw radishes in a multitude of ways. You're only limited by your imagination and ability to have their pungency in your food. You can slice, chop, or grate for salads, slaws, use with dip or put on a sandwich. Grated daikon on a banh mi or sliced red radish on a turkey sandwich with Gruyere and spinach are particular favorites of mine.
Sautéing: One of the most common techniques I came across was to briefly sauté radish slices or chunks to tone down the "bite" of a particularly pungent radish. While I don't think that radishes necessarily need to be toned down, this is a great way to decrease the bite, without eliminating all of the crunch of the radish. One of the best parts of radishes, in my mind, is that crisp crunch, so make sure to sauté it only for as long as you think you need so it doesn't get mushy. Many of the milder radishes like watermelon and daikon can also be sauteed, but they tend to be tossed into stir-fries at the end so that they remain crisp but get just the faintest char to their grated or diced flesh. When adding radishes to stir-fry, you can cut them in any manner that you're comfortable with, though I prefer grating them or match-sticking them.
Sauté/pan-sear in a non-stick or sprayed pan for a few minutes over high heat. You want the radishes to get a little brown but not burn or turn too crispy. You also want to make sure that the pan is hot enough that they don't turn to mush before the edges crips up.
Steaming: Leave radishes whole (remove the greens just below the top of the radish) and place in the steamer basket of a medium pot (over an inch of boiling water) for 8-12 minutes. The total time for steaming will depend on the size of the radishes. They should be steamed until tender but not mushy. Once they are done you can roll them in butter and sprinkle with salt, pepper, and fresh herbs. You can also let them cool and have them on a salad.
Soups: You can also use radishes in soups and stews as you would turnips. Radishes are much more biting than turnips, so as long as you consider the flavoring change and adjust the amount added accordingly, they can be used chopped, sliced, or whole.
Greens: The greens are even more versatile than the actual radish. You can sauté the greens as you would spinach, add them raw to a salad mix, put them on pizza, add them to soups, have them as a side dish, blend them into a delicious pesto, stir-fry them with various kinds of rice or grain, pickle them, or use them as a garnish.
Farm Fresh Now Recipes
Pickled Radishes on Baguette with Chevre
Recipes
Bon Appetit – 35 Best Radish Recipes
TLC Resources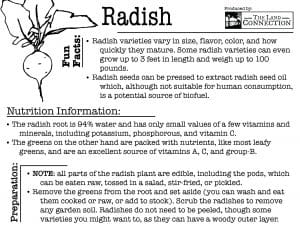 Specialty Crop Blog – Radish Me This and Radish Me That
External Resources