Welcome to the 2021 Kid's Kits Program! Last year's Kid's Kits were so successful that we've been working with new partners to expanding the program this year. This year, you'll be able to pick up a Kid's Kit at the Champaign-Urbana Winter Farmers Market and the Champaign Farmers Market from March through December. Each kit will have all of the ingredients to make that month's dish, a recipe card, and a link to the recipe and accompanying video on our website. You can also watch the YouTube videos on The Land Connection's YouTube Channel.
Each kit features local, in-season produce or products that can be purchased at the farmers market so that kids learn about seasonality and how to prepare local food. It also creates a great opportunity to engage kids in the kitchen through a family-centric activity.
For regular Kid's Kits updates, please sign-up for our weekly e-newsletter, The CUrrant, to get updates on all market activities, including the Kid's Kits.
SCHEDULE
Saturday, March 27, 2021 – Pickup at the Champaign-Urbana Winter Farmers Market
Saturday, April 24, 2021 – Pickup at the Champaign-Urbana Winter Farmers Market
Tuesday, May 25, 2021 – Pickup at the Champaign Farmers Market
Tuesday, June 29, 2021 – Pickup at the Champaign Farmers Market
Tuesday, July 27, 2021 – Pickup at the Champaign Farmers Market
Tuesday, August 31, 2021 – Pickup at the Champaign Farmers Market
Tuesday, September 28, 2021 – Pickup at the Champaign Farmers Market
Tuesday, October 26, 2021 – Pickup at the Champaign Farmers Market
Saturday, November ?, 2021 – Pickup at the Champaign-Urbana Winter Farmers Market
Saturday, December ?, 2021 – Pickup at the Champaign-Urbana Winter Farmers Market
SPONSORS
Funding for the 2021 Kid's Kits program is provided in part by

Additional support for the 2021 Kid's Kit program is provided by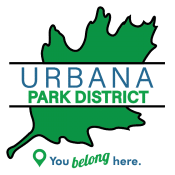 Bokashi Composting
August 31, 2021
Well, it wouldn't quite be summer without a few curveballs, so instead of doing a traditional summer recipe with sweet corn, peaches, or tomatoes, today we're going to learn all about composting, and not just any kind of composting, we're going to learn about Bokashi composting which is great for people with small living/cooking areas that can't have a large compost tumbler outside or may not even have any greenspace of their own where they live. The kit is also a little more involved and requires at least 3-4 weeks of setup, but given that it is summer, this could be a great way to keep your kids engaged with a project during the summer.
Print Recipe
Bokashi Composting
These instructions are specifically to be followed if you're using buckets with drains (aka holes) which is what you have! Please note that this process takes time (several weeks) and you/your family will have to collect kitchen food scraps and set them aside to be composted as part of a daily ritual.
Equipment
Bokashi Bran

3-5 Gallon Bucket with Drain and Lid

Large Plastic Bag

Plate (that fits inside bucket)

Additional Container for Scraps
Instructions
INSTRUCTIONS - GETTING STARTED
Lightly sprinkle the Bokashi bran onto the bottom of the bucket; a light dusting is all that is needed (i.e. do not fully cover the bottom with the bran).

Add your first layer of food scraps/waste to the bucket (on top of the light dusting of bran). The first layer should be about 1-inch thick, so if you need to collect scraps for a couple of days, do that before starting. Smaller scraps or pieces of food waste break down faster, so cut larger pieces, like banana peels or pieces of bread, into 1-inch pieces or smaller before putting them into the bucket.

Lightly sprinkle the first layer with Bokashi bran - just a light dusting, not a solid layer. If your first layer of scraps contains any meat, dairy, fats or oil-heavy foods, sprinkle some extra bran over those scraps.

Lightly stir up the contents to distribute the Bokashi bran (and the microbes that are on it) throughout your layer of scraps.

Open a plastic bag, like a large ziplock or trash bag, and put it in the bucket on top of the scraps like it was a trashcan. Cover the food scraps and bran mixture with the plastic bag and then using a plate, a frisbee, or anything else laying around that is relatively flat, fits in the bucket, and won't break if you push on it a little bit, push down on the waste scraps with your hands using the plastic bag as a barrier and the flat object for uniform compression. After pressing down, you can place something heavy in or on top of the plastic bag to create consistant weighted compression, but that is not necessary. NOTE: Compressing the contents ensures adequate contact between the food scraps and the microbes on the Bokashi bran. It also helps to remove any air spaces between the materials and forces any extra liquid in the system to drain lower.

After compressing the waste scraps and bran mixture, put the lid on the bucket and put it somewhere dark and cool, like under your sink, in the back of your pantry, or even in your basement.
INSTRUCTIONS - "DAILY" ROUTINE
Add more food scraps and bran over the next few weeks, repeating steps 2-6 from above each time you add another layer of waste. You'll want to open the bucket as little as possible so try collecting your food in a different container that lives on your counter or in your refrigerator and add scraps to the bucket once a day or every other day. If your bucket starts to smell bad you need to add more bran to your next layer.

Drain the liquid from the bucket every day. You can pour the liquid down the drain or use it to fertilize any house plants or herbs you may be growing.

Once you've filled the bucket with composting food scraps and waste, seal the lid, label and date the bucket, and let the bucket sit for two weeks. Place the bucket in a location where it can be left alone and untouched for the entire two weeks.
INSTRUCTIONS - WRAPPING IT UP
After your two weeks have past, create a trench in the soil in your blue tub. Drain most of the liquid from your bucket. Pour the remaining contents of the bucket into the trench and cover with soil. The soil should create a 'donut' around the bucket contents. Press lightly on the top of the soil to remove any large air gaps. Put the lid on your blue bin and let it sit for 4 weeks or until the last week of class. Ideally you should mix some of the soil in with the bucket contents but you need a third container to do this properly. Do your best to incorporate a little soil with the bucket contents. But all of this should still be fully incased in plain soil.
Video
Notes
NEXT LEVEL COMPOSTING
If you want to take your composting to the next level, keep a Daily Composting Journal. Keep records of the food scraps that you are adding to the bucket every day or every other day. When you are writing your entry for the day think about anything that was different today than in previous days. You'll also want to consider what is the same. If you start to have any problems, record those too. Here are some questions to help guide your journal entries:
Did you collect the scraps in a separate container?
When did you open the bucket to add the new scraps?
Did you add bran at this time?
Did you compress the contents?
Did you drain the liquid?
Did you look anything up online to assess a problem or get a better understanding about what you were seeing?
What did you do to solve the problem?

You'll also want to: mark/note the date you fill the bucket and seal it, the date you transfer the composting contents out of your bucket, as well as your recorded observations from the final stage of the process. You can use the very basic form below for each entry or create one of your own.

Daily Composting Journal [TEMPLATE]
EXAMPLE
DATE: 09/02/21
Sprinkled bran on bottom of bucket, food scraps collected in bowl on counter. [coffee grounds, tea leaves, tomato pieces, carrot ends, apple cores]. Added to bucket before bed.
FOOD ADDED: Yes
BRAN ADDED: Yes
CONTENTS COMPRESSED: Yes
DRAINED LIQUID: N/A
Cantaloupe Salsa
JULY 27, 2021
The heat is here and so we look to deliciously cooling vegetables like cucumber and melon to help refresh us o these long hot days. This salsa might seem to be a little out there for some, but it is delicious. Plus, as Illinois is one of the largest producers of melons in the country, we should all work to find more ways to be kind to cantaloupe.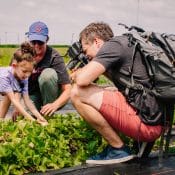 Massaged Kale Salad
JUNE 29, 2021
Summer is finally here and we can start enjoying the deliciously light and complex flavor that exemplifies the warmth and vibrancy of the summer sun.
Planting Seedlings / Plant Starts
MAY 25, 2021
Now that we're past May 15, we can all get out and start planting our gardens! Learning how to properly plant and care for the plants in a garden are really important skills for kids to learn, whether they are interested in food or farming or not. We hope you like this week's non-cooking Kid's Kit and hope to see you back next week!
Planting Seedlings / Plant Starts
Learn how to properly plant you starts so that you can have a healthy, food producing garden all summer long!
Check out this recipe
Baked Parmesan Asparagus Fries
APRIL 24, 2021
Asparagus is one of the first true spring crops to find its way into the sunlight and into our bellies. The delicious tender stalks are a true treat when picked fresh and consumed quickly. Making these Baked Parmesan Fries using asparagus is a great way to get kids to try these tasty spears. Try them out and let us know what you think.
Spinach Ranch Dip
MARCH, 27, 2021
At this time of year, everyone just wants it to be Spring. It would be nice if Spring weather came along for the ride though. That being said, there are still lots of delicious vegetables that you can get locally in the late winter and early spring. One of the most common ones is spinach. In watching the video to learn how to make the Spinach Ranch Dip, you'll also get to visit BlueMoon Farm in Urbana, IL where the spinach for the Kit was grown, and hear all about spinach from Ann Swanson, the chef preparing this local dish!
Spinach Ranch Dip
Making homemade ranch is a delicious way to encourage everyone to eat local veggies. But with this Spinach Ranch Dip recipe, some of the veggies are added to the ranch, making it even tastier and healthier! Plus, check out the video to learn all about growing and harvesting spinach.
Check out this recipe
2020
Pumpkin Carrot Bread
OCTOBER, 27, 2020
The holiday season is all about family, no matter what you observe or believe in, and no matter the size, shape, or composition of your tribe. From October through the middle of January, there is something in the autumn air that brings people together, it seems. Or, maybe it's just the threat of a chill that drives people to seek warmth together. Who knows.
Either way, sharing food with family and friends is important, and this week's Kid's Kit is definitely a recipe you'll want to pull out several times this holiday season. Plus, your kids will finally learn about a new way to use pumpkins besides carving them or watching squirrels eviscerate them with reckless abandon. Also, this recipe involves homemade whipped cream, which is pretty much the perfect reason to do anything in the fall.
Pumpkin Carrot Bread
This pumpkin carrot bread is a great recipe for around Halloween when you can get local pumpkins at the farmers market or local grocery store. Plus, what kid doesn't love playing with pumpkin guts!
Check out this recipe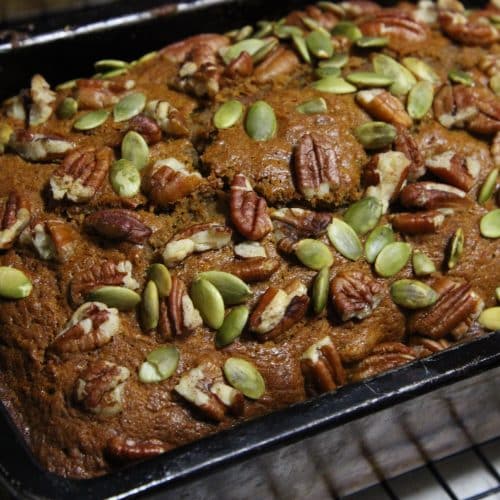 Local Apple & Pear Hand Pies
October 13, 2020
Baking can be intimidating and frustrating, but it can also be fun, silly, messy, and delicious! Whether you have kids or not, if you ever made cookies as a kid with an older family member I'm sure that you have experienced this first-hand.
This week's Kid's Kit brings a few simple ingredients into your kitchen for some basic baking fun. Plus, once you learn this recipe you can have fun with it and use different fillings, make it sweet or savory, or even sprinkle sugar or hard cheese on top for some added fun. By using a frozen pie dough, there really isn't much worry about in regards to messing up the dough, but if you want to get adventurous, Martha Stewart has a great pie dough recipe – it does require a food processor though.
Breakfast Eggs & Potatoes
September 29, 2020
Breakfast can easily be one of the most creative meals of the day; if you have time for it that is. Most people however don't have time for a nice sit-down breakfast with their family. That doesn't mean that you can't enjoy typical breakfast food at other times of the day!
This week's Kid's Kits shows that a fun, family dinner can be a perfect time to roast some local veggies, scramble some delicious fresh eggs, and enjoy breakfast for dinner! Roasting a variety of vegetables is also a great way to get kids to try new veggies and can always serve as a "refrigerator clean-out" meal when you've got a lot of random things left to use.
Bell Pepper & Tomatillo Quesadilla
September 15, 2020
One of the most versatile snacks/appetizers/meals has got to be the quesadilla. If you've got tortillas, cheese, and a bunch of random delicious ingredients you can make a quesadilla to use as a vehicle for your favorite condiment. Quesadillas are great for even the pickiest of children eaters. Everyone loves quesadillas!!
With summer produce slowing down as the nights get a little cooler, we decided to have one last quesadilla hurrah that features two summer favorites vegetables: peppers and tomatillos. If you're intimidated by the tomatillos, just try one raw. They taste delicious and tangy, almost like a granny smith apple with a different texture. So let's try some new veggies with this week's kid's kit as we make Bell Pepper & Tomatillos Quesadillas! Below you'll find the recipe and video tutorial for preparing the dish.
Cherry Tomato Basil Bruschetta
August 25, 2020
Nothing says summer like fresh cherry tomatoes. With that in mind, for week two of our Kid's Kits program at the Champaign Farmers Market, we're bringing you a recipe and kit for seasonal Cherry Tomato Basil Bruschetta. Below you'll find the recipe and video tutorial for preparing the dish.
The program is funded by the Nutrition Incentive Hub as part of a mini-grant to support our nutrition incentive program during COVID-19. The Land Connection and the Champaign Farmers Market are partnering with Champaign-Urbana Public Health District and Common Ground Food Co-op on the project. The project is also in conjunction with Common Ground's "Cooking with Kid's" program.
Baked Zucchini Fries with Sour Cream Ranch Dip
July 28, 2020
For week one of our Kid's Kits program at the Champaign Farmers Market, we're bringing you some delicious Baked Zucchini Fries with Sour Cream Ranch Dip. Below you'll find the recipe and video tutorial for preparing the dish.