Jacquelyn Evers: Executive Director
jacquelyn@thelandconnection.org
Jacquelyn joined The Land Connection team in May 2018 from her previous position as Executive Director for Sangamon Valley Youth Symphony, a non-profit based in Springfield. It was in this position that Jacquelyn found her path in nonprofit management. During her tenure with Sangamon Valley Youth Symphony (SVYS), the organization underwent substantial change with operations to improve efficiency and productivity; experienced increased enrollment in ensembles; acquired stronger, more secure funding sources; and developed an engaged Board of Directors working to expand the organization's footprint in Springfield. Jacquelyn holds both a Bachelor and Master degree in Music Education from the University of Illinois at Urbana-Champaign. In addition to her role as Executive Director at The Land Connection, Jacquelyn maintains an active piano studio in the Champaign-Urbana community. When she's not working, Jacquelyn enjoys spending time with her pets, cooking, and all things outdoors.
Cassidy Dellorto-Blackwell: Farmer Training Program Manager
cassidy@thelandconnection.org
Cassidy hails from Downs, IL and is excited to be back in her Central Illinois stomping grounds after many years away. Growing up in this endless agricultural horizon, she was always fascinated by our working landscapes. To feed her fascination, Cassidy apprenticed with PrairiErth Farm in Atlanta, IL, worked on an organic vineyard in Carlton, Oregon, and managed a community garden space in St. Louis, MO (not to mention the many summers spent detasseling as a kid). She comes to The Land Connection from the Sustaining Family Forests Initiative at the Yale School of Forestry and Environmental Studies where she worked to increase conservation and land management activities on private lands. Before her stint on the east coast, Cassidy spent several years abroad including serving a tour as an Education Volunteer with the US Peace Corps in central China. She has an MS in Environmental Psychology and Conservation Ecology from the University of Michigan and a BA in Studio Art from Webster University.
Joan Jach: Farmers Market Manager
market@thelandconnection.org
Joan is an IL native and grew up in the NW suburbs of Chicago. Her mom grew a garden most years and cooked diverse foods like samosa, eggrolls, artichokes and tofu all of the time. Joan carried this knowledge of a plant-based diet and homegrown veggies with her through undergraduate and graduate schools. Every place she's lived, Portland, Or, Ames IA, Normal, IL, she's had a garden, no matter how small. Shortly after moving to Champaign, IL in 2005, Joan became a mom and decided to switch gears from geology to backyard market gardening in order to spend more time with her daughter.
This switch revealed a new path through the world of farming and farmers markets. She sold at the Urbana's Market at the Square for 41/2 years, offering fruits, veggies, flowers and handmade goods. In 2014 her vegetable garden was the first in the annual Champaign Co. Master Gardeners Garden Tour. She was also sold at the Tuesday Champaign Farmer's Market for the first 21/2 years of the Market. Joan loves growing food, flowers and herbs and has tried growing almost everything from ranunculus to fennel. Most of her yard is under cultivation for annual or perennial flowers, fruit or vegetables. Her goal is to have no grass left to mow!
Joan is happy to be back with TLC family, who she worked with in 2010-2011 when it was headquartered in Sydney, IL. Supporting the local food movement is a huge motivator for Joan and she loves sharing and teaching in the CU community about local food, farms, cooking and growing food!
Dana Vollmer: Development Director
dana@thelandconnection.org
Dana left public media in pursuit of an opportunity to more directly help people and the planet.
A native of South Elgin, Dana has been traversing Illinois reporting for local NPR stations for nearly five years. Dana got their start in radio while studying Communication at Northern Illinois University in DeKalb. They went on to cover state government and politics at the Illinois State Capitol and earned a master's in Public Affairs Reporting from the University of Illinois Springfield. Most recently, Dana covered local news in Peoria and Bloomington-Normal.
Dana is passionate about telling stories that help people get to know their community, understand complex issues and get involved. They hope to use those skills to share the joy of local food and the people that bring it to harvest.
An enthusiastic home cook, Dana is never too far from the kitchen—feeding friends and dreaming up new fermentation projects. Dana is happiest outdoors hiking, camping and canoeing with their partner and pup. Dana also loves books, board games and homebrewing.
Lilly Bralts-Kelly
lilly@thelandconnection.org
Lilly grew up in Urbana, IL, eating green beans off the vine in her mom's garden and helping regional farmers sell at local markets. She left Illinois to attend Macalester College in St. Paul, MN, graduating in 2020 with a B.A. in mathematics and astrophysics. After coming home to Urbana-Champaign, prior farmers' market experience brought Lilly to The Land Connection, where assisting with market operations led her to develop specialized interests in food accessibility and nutrition benefit programs. Now she's working to expand the reach of LINK Match programming and put more local, healthy food on tables across central IL.
Lilly is driven by her passions for teaching, communication, and directly helping people and the world around her. She's the most herself when she's outdoors—whether that be slinging peaches at market, hiking up mountainsides, or pointing out comets and constellations to anyone who will listen. She's also a big fan of reading, running, and the Minneapolis-St. Paul soccer scene.
---
Board
Joe Wetzel: President
Joe is an Attorney at Livingston, Barger, Brandt & Schroder, LLP in Champaign. Joe grew up in Mt. Zion, Illinois, attended Richland Community College, Millikin University, and law school at Southern Illinois University – Carbondale. In 2004, Joe began his law practice in Decatur, Illinois at a general practice law firm. In 2009, Joe transitioned to a specialized area of the law focusing on banking, real estate, and financial litigation, which took him throughout the State of Illinois. In 2014, his wife's job brought their family to Champaign-Urbana. Upon moving to the area, Joe immediately set out to become an owner of Common Ground, take advantage of the Champaign and Urbana Farmer's Markets, and discover locally owned establishments to patronize.
Joe's aim is to give back to the community in which we live and work to make the community better for the whole. Everyone can make a difference in his or her own way. For Joe he plans to utilize his legal experience as a resource for individuals and entities as they navigate the legal landscape. Joe is excited for the opportunity to lead The Land Connection as their Board President and looks forward to being able to further their mission.
Lisa Bralts-Kelly: Vice President
Lisa Bralts-Kelly grew up in Florida and Minnesota, graduated from Macalester College in St. Paul in 1990 before moving to Chicago in 1991, and arrived in Urbana-Champaign in 1996 to work for an independent record label. She is currently Illinois Public Media's Director of Content and Strategic Communications, overseeing the stations' marketing, TV/video content creation, and FM services. Area food folks might know her from her previous work – she worked for almost 5 full seasons as the Director of Urbana's Market at the Square and has also worked for the Eastern Illinois Foodbank, as well as her role as a board member for four years at Common Ground Food Co-Op in Urbana. She has two grown children and lives with her husband in Urbana, Illinois.
Susan Lannin: Secretary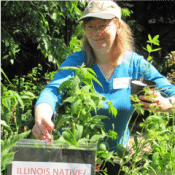 Sue grew up in Chicago's Austin neighborhood & in a rural area in Cook County later annexed into Northbrook. She earned an MS in library & information science & a BA in English from the University of Illinois at Urbana-Champaign. After teaching in McHenry County, she served as reference librarian at the Merriam Center for Public Administration on the campus of the University of Chicago. She was awarded an MS in Community Development from North Park University, Chicago, in 2007.
Active in conservation issues on the state & local level, she chaired the board of the Illinois Environmental Council, was active with the Chicago Recycling Coalition, & worked as office administrator for the Sierra Club Illinois Chapter. While working at Sierra Club, she represented The Sierra Club Foundation on the board of EarthShare of Illinois. She is retired but in addition to serving on TLC's board since 2009, Sue volunteers with neighbors on a plan to transform a lakefront building that once housed the Village of Rogers Park's pumping station into a Lake Michigan Nature Center & to help visitors of all ages learn about & care for an oak savannah & dune land plants in its vicinity.
Sue & her husband live in Chicago's Northeast Side where she helped establish the Glenwood Sunday Market farmers market, now a project of the Rogers Park Business Alliance. She serves on the Leadership Advisory Council of the GSM. She supports TLC's work to save farmland & train farmers in organic/regenerative practices, as she sees these as essential to safeguard public health, build the local food economy, restore soil fertility, revitalize & connect rural & urban communities, & improve water quality.
Jacob Taylor: Treasurer
Growing up on a farm gave Jacob a passion for agriculture, home cooked meals, and economic decision making. After earning a degree in Agriculture and Consumer Economics from the University of Illinois's College of ACES, Jacob started working for Busey Wealth Management to hone his finance and planning skills. Now it's his pleasure to use those skills to help further The Land Connection's mission of a healthy and sustainable local food economy.
Michael J. Lauher
Michael grew up on a small grain and livestock farm in east central Illinois where raising hogs & rabbits for 4-H, and driving tractors were a part of his childhood experience. He served with distinction as a Crew Chief mechanic in the United States Air Force and holds a Bachelor of Science, Magna cum Laude in Agribusiness from Illinois State University.
Michael started his career in agriculture in 1993 in Decatur, Illinois working for what is now FirstMid Agricultural Services for fourteen years, managing, brokering, and appraising farm properties. In 2008, he joined Hancock Farmland Services to manage farms and assisted with property acquisitions, and sales in the Midwest and the Delta. While there, he was promoted to oversee the management of all Row Crop property investments in the US for Hancock Agricultural Investment Group.  More recently he was National Director of Land Management and Appraisals for Peoples Company out of Clive Iowa.  Michael now owns and operates his own company, Rolling Acres Ag Solutions, providing agricultural consultation and real property appraisal services.  He is a licensed Illinois Real Estate Broker, an Accredited Farm Manager of the American Society of Farm Managers and Rural Appraisers, and Accredited Land Consultant with the Realtors Land Institute.
Michael's interest in conservation and sustainability began when he worked with his 4-H club, the Grandview Pioneers, on conservation projects to win the Mary Frances Fruin Conservation Award in Edgar County.  That legacy continued as he helped in the development of the conservation standard for Row Crops for the Leading Harvest organization while at Hancock.  Michael looks forward to continuing his work making agriculture sustainable for future generations.
Michael lives in Savoy with his wife, father-in-law, and chocolate lab/Australian shepherd mix puppy, Scooby.  They enjoy traveling and spending time with their 5 kids and 4 grandchildren.
Dave Bishop
Dave Bishop and his family own and operate PrairiErth Farm, a 450-acre diversified farm in central Illinois. They produce corn, soybeans, wheat, vegetables, beef, pork, eggs, and honey. The farm has been certified organic since 2004.
Dave is president of the Illinois Local Food, Farms, and Jobs Council, and serves on the Sustainable Ag Advisory Committee for the Illinois Department of Agriculture. He teaches regenerative agriculture at Heartland College in Bloomington.
The farm's mix of livestock and crops is the foundation of its sustainable system. Dave's extended crop rotation includes grazing time for livestock on row crop fields to build organic matter in the soil, provide balanced fertility for future crops, and increase the income- producing capacity of each acre.
The Bishops' farming practices have garnered numerous awards: They are the 2017 Midwest Organic & Sustainable Education Service (MOSES) Organic Farmers of the Year, and recipients of the 2018 RJ Vollmer Award for Sustainable Agriculture from the Illinois Department of Agriculture. In 2019, PrairiErth Farm was one of seven US farms recognized by "Good Food 100" Restaurants and the James Beard Foundation for their dedication to sustainability, transparancy, and advancing good food.
Irene Kaufman
Having lived in California and Illinois, two of the largest agricultural states in the US, Irene has come to believe in the importance of regenerative farming practices in shaping our future. She received her M.S. in Agriculture from California Polytechnic State University, San Luis Obispo in May 2017. Irene and her husband moved to the Champaign-Urbana community in 2016, where she first got involved with assisting at the Champaign Farmers Market.
Irene hopes to make a difference in the food system, starting at the local level. She plans to use her research background and passion for community involvement to further engage farmers and the local community.
Andrea Davidson
Andrea grew up in a household where getting together with family and friends always meant there was going to be good food and lots of laughter shared. Those memories have molded her into being passionate about people understanding where their food comes from and having access to fresh and healthy foods.  She understands that we need all Farmers/Farms and the sweet spot is where we can all come together to provide economical and healthy options for everyone.
As a District Sales Manager across Central & Northern Illinois, Andrea spends her days mostly working with row crop Farmers, advising them, and making plans that are economical and environmentally sound.  She received her degree in Agronomy Management & Agribusiness from Illinois State University. She believes that the Agriculture Community truly is the best there is.
She is looking forward to the opportunity to be on The Land Connection Board, and to learn from her peers how to better support locally grown and sourced foods!
---
Terra Brockman: Founder
Terra was born in Florida but raised in Central Illinois, where four generations of her family has farmed.  Of course she couldn't wait to leave what seemed a capital B Backwater, so she "lit out for the territories."
After spending time at the University of Oregon and the University of California at Berkeley, and then finishing up an undergraduate and graduate degree in English literature and biology at Illinois State University, she went to Japan and worked as a teacher, writer, and editor for five years, and then to New York City where she worked as a writer and editor for almost a decade.  During those years, she traveled extensively, from Nepal to Eritrea to Morocco to the Baltics. While visiting "third world" countries she found she often ate better foods than in the US because their foods were fresh, local, and unprocessed.
As she gradually returned to her roots in Central Illinois, Terra realized that the best food in the world could and should be grown by small, diverse farms that mimic nature, and that communities should be able to feed themselves independent of fossil-fuel based agri-chemicals. In 2001, she founded The Land Connection to save farmland, train new farmers, and connect consumers with fresh local foods.
Terra is the author of The Seasons on Henry's Farm, which was nominated for a James Beard Award in 2010. She has been honored with a Green Award from Chicago Magazine, a Good Eating Award from the Chicago Tribune, and a rural achievement award from Lt. Governor Sheila Simon.
Terra's favorite food is a lightly fried duck egg on toast.