Terra Brockman: Founder
Terra was born in Florida but raised in Central Illinois, where four generations of her family has farmed.  Of course she couldn't wait to leave what seemed a capital B Backwater, so she "lit out for the territories."
After spending time at the University of Oregon and the University of California at Berkeley, and then finishing up an undergraduate and graduate degree in English literature and biology at Illinois State University, she went to Japan and worked as a teacher, writer, and editor for five years, and then to New York City where she worked as a writer and editor for almost a decade.  During those years, she traveled extensively, from Nepal to Eritrea to Morocco to the Baltics. While visiting "third world" countries she found she often ate better foods than in the US because their foods were fresh, local, and unprocessed.
As she gradually returned to her roots in Central Illinois, Terra realized that the best food in the world could and should be grown by small, diverse farms that mimic nature, and that communities should be able to feed themselves independent of fossil-fuel based agri-chemicals. In 2001, she founded The Land Connection to save farmland, train new farmers, and connect consumers with fresh local foods.
Terra is the author of The Seasons on Henry's Farm, which was nominated for a James Beard Award in 2010. She has been honored with a Green Award from Chicago Magazine, a Good Eating Award from the Chicago Tribune, and a rural achievement award from Lt. Governor Sheila Simon.
Terra's favorite food is a lightly fried duck egg on toast.
---
Jacquelyn Evers: Executive Director
jacquelyn@thelandconnection.org
Jacquelyn joined The Land Connection team in May 2018 from her previous position as Executive Director for Sangamon Valley Youth Symphony, a non-profit based in Springfield. It was in this position that Jacquelyn found her path in nonprofit management. During her tenure with Sangamon Valley Youth Symphony (SVYS), the organization underwent substantial change with operations to improve efficiency and productivity; experienced increased enrollment in ensembles; acquired stronger, more secure funding sources; and developed an engaged Board of Directors working to expand the organization's footprint in Springfield. Jacquelyn holds both a Bachelor and Master degree in Music Education from the University of Illinois at Urbana-Champaign. In addition to her role as Executive Director at The Land Connection, Jacquelyn maintains an active piano studio in the Champaign-Urbana community. When she's not working, Jacquelyn enjoys spending time with her pets, cooking, and all things outdoors.
Cassidy Dellorto-Blackwell: Farmer Training Program Manager
cassidy@thelandconnection.org
Cassidy hails from Downs, IL and is excited to be back in her Central Illinois stomping grounds after many years away. Growing up in this endless agricultural horizon, she was always fascinated by our working landscapes. To feed her fascination, Cassidy apprenticed with PrairiErth Farm in Atlanta, IL, worked on an organic vineyard in Carlton, Oregon, and managed a community garden space in St. Louis, MO (not to mention the many summers spent detasseling as a kid). She comes to The Land Connection from the Sustaining Family Forests Initiative at the Yale School of Forestry and Environmental Studies where she worked to increase conservation and land management activities on private lands. Before her stint on the east coast, Cassidy spent several years abroad including serving a tour as an Education Volunteer with the US Peace Corps in central China. She has an MS in Environmental Psychology and Conservation Ecology from the University of Michigan and a BA in Studio Art from Webster University.
Hyde Taidghin O'Brien: Marketing & Outreach Manager
taidghin@thelandconnection.org
Originally from Philadelphia, Taidghin grew up in the heart of the city and attended a small Quaker school. He moved to St. Louis in 2004 to attend Washington University in St. Louis where he received a B.A. in Art History and Visual Communications and a B.S.B.A. in Marketing and International Business. Following his graduation in 2008, he worked at the University as the Assistant Curator of Visual Resources for the School of Art, School of Architecture, and the Art History Department. He moved to Chicago in 2011 to work in the Office of Exhibition Practices at the School of the Art Institute of Chicago. Living in Chicago provided access to great farmers markets and both Taidghin and his partner became heavily involved in the local food scene. In 2015, they left the increasing rents of the city for Champaign-Urbana. Since then, Taidghin has worked at Prairie Fruits Farm & Creamery and BlueMoon Farm, managed an incubator plot at Prarie Fruits Farm with his partner, started Lucky Pierre Bakers with his partner, and began working at The Land Connection. Taidghin is an avid home-cook and gardener and wants to teach people all about the joys of preparing food with local ingredients, while also working around constraints such as time, money, equipment, or skill set.
Nicole Philyaw: Office Manager
nicole@thelandconnection.org
Nicole Philyaw never expected to "land" at an organization like The Land Connection. She went to the University of Illinois for her undergraduate and graduate degrees and studied Engineering Psychology with a focus on display design. Having inherited the entrepreneurial bug from her father, she decided to forgo getting a job in her field and opened up an eclectic shop in downtown Champaign instead. Nic's Basket Case kept her extraordinarily busy for 7 years, until some people came along asked if they could buy her out of her lease. She accepted the offer and ended up taking a job that offered benefits (health insurance, vacation, and sick days, oh my!). For almost ten years, Nicole worked in Marketing at AOCS, where she took advantage of her vacation and sick days, AND had the opportunity to travel to exotic places. Nicole now brings her variety of experiences to The Land Connection, where she takes care of the accounting and grant budgets, database management, oversees the website, runs registrations, does editing, and takes care of other general office duties.
Now that she has free time, Nicole likes to spend her time gardening, hanging out near bodies of water, and chilling with her cats. She has been a member of the CU DIVAs (Champaign-Urbana Downtown Independent Volunteer Association) for 14 years and spends a lot of time volunteering and putting on fundraisers.
---
Board
Joe Wetzel: President
Joe is an Attorney at Livingston, Barger, Brandt & Schroder, LLP in Champaign. Joe grew up in Mt. Zion, Illinois, attended Richland Community College, Millikin University, and law school at Southern Illinois University – Carbondale. In 2004, Joe began his law practice in Decatur, Illinois at a general practice law firm. In 2009, Joe transitioned to a specialized area of the law focusing on banking, real estate, and financial litigation, which took him throughout the State of Illinois. In 2014, his wife's job brought their family to Champaign-Urbana. Upon moving to the area, Joe immediately set out to become an owner of Common Ground, take advantage of the Champaign and Urbana Farmer's Markets, and discover locally owned establishments to patronize.
Joe's aim is to give back to the community in which we live and work to make the community better for the whole. Everyone can make a difference in his or her own way. For Joe he plans to utilize his legal experience as a resource for individuals and entities as they navigate the legal landscape. Joe is excited for the opportunity to lead The Land Connection as their Board President and looks forward to being able to further their mission.
Lisa Bralts-Kelly: Vice President
Lisa Bralts-Kelly grew up in Florida and Minnesota, graduated from Macalester College in St. Paul in 1990 before moving to Chicago in 1991, and arrived in Urbana-Champaign in 1996 to work for an independent record label. She is currently Illinois Public Media's Director of Content and Strategic Communications, overseeing the stations' marketing, TV/video content creation, and FM services. Area food folks might know her from her previous work – she worked for almost 5 full seasons as the Director of Urbana's Market at the Square and has also worked for the Eastern Illinois Foodbank, as well as her role as a board member for four years at Common Ground Food Co-Op in Urbana. She has two grown children and lives with her husband in Urbana, Illinois.
Susan Lannin: Secretary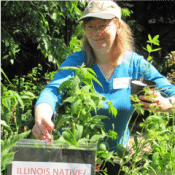 Sue grew up in Chicago's Austin neighborhood & in a rural area in Cook County later annexed into Northbrook. She earned an MS in library & information science & a BA in English from the University of Illinois at Urbana-Champaign. After teaching in McHenry County, she served as reference librarian at the Merriam Center for Public Administration on the campus of the University of Chicago. She was awarded an MS in Community Development from North Park University, Chicago, in 2007.
Active in conservation issues on the state & local level, she chaired the board of the Illinois Environmental Council, was active with the Chicago Recycling Coalition, & worked as office administrator for the Sierra Club Illinois Chapter. While working at Sierra Club, she represented The Sierra Club Foundation on the board of EarthShare of Illinois. She is retired but in addition to serving on TLC's board since 2009, Sue volunteers with neighbors on a plan to transform a lakefront building that once housed the Village of Rogers Park's pumping station into a Lake Michigan Nature Center & to help visitors of all ages learn about & care for an oak savannah & dune land plants in its vicinity.
Sue & her husband live in Chicago's Northeast Side where she helped establish the Glenwood Sunday Market farmers market, now a project of the Rogers Park Business Alliance. She serves on the Leadership Advisory Council of the GSM. She supports TLC's work to save farmland & train farmers in organic/regenerative practices, as she sees these as essential to safeguard public health, build the local food economy, restore soil fertility, revitalize & connect rural & urban communities, & improve water quality.
Irene Kaufman: Treasurer
Having lived in California and Illinois, two of the largest agricultural states in the US, Irene has come to believe in the importance of regenerative farming practices in shaping our future. She received her M.S. in Agriculture from California Polytechnic State University, San Luis Obispo in May 2017. Irene and her husband moved to the Champaign-Urbana community in 2016, where she first got involved with assisting at the Champaign Farmers Market.
Irene hopes to make a difference in the food system, starting at the local level. She plans to use her research background and passion for community involvement to further engage farmers and the local community.
Will Glazik
Will Glazik of Paxton, Illinois is a second generation organic farmer and crop advisor. Will was raised on a mixed row crop and livestock certified organic farm before he studied Crop Sciences at the University of Illinois at Urbana-Champaign. After graduation, Will went to work in agriculture retail sales and then began share crop farming 640 acres where he utilizes no till organic practices. Will also consults for organic row crop transition farmers. Will is a co-founder of the IDEA Farm Network, which is a learning community for organic and conservation minded farmers in the Midwest. He raises corn, soybeans, and wheat, as well as specialty grains like open pollinated corn and wheat for brewers and distillers.
Thomas Harrison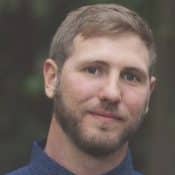 Thomas Harrison is the owner/ farmer of Crooked Row Farm. The farm is located in Champaign, Illinois and is on it's 4th year of operation. Thomas is also the assistant farm manager for the Hendrick House Farm. Thomas has had a passion for farming his entire life. Thomas has spent the last 8 years learning organic/natural process farming and the last 6 years farming with organic methods. He began learning about where his food was coming from and decided to make changes in his life to become healthier and to provide clean, nutritional food to his family and friends. This passion has advanced into providing these same beliefs for the community as well because Thomas feels they are also his family and friends. Thomas has previously been involved with the Parkland College Sustainable committee. He is eager to help change the way people think about where their food is coming from.
Jacob Taylor
Growing up on a farm gave Jacob a passion for agriculture, home cooked meals, and economic decision making. After earning a degree in Agriculture and Consumer Economics from the University of Illinois's College of ACES, Jacob started working for Busey Wealth Management to hone his finance and planning skills. Now it's his pleasure to use those skills to help further The Land Connection's mission of a healthy and sustainable local food economy.